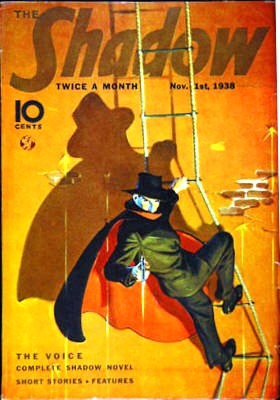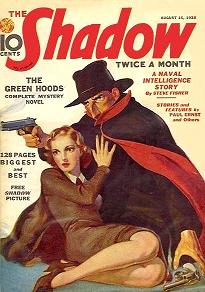 "What evil lurks in the hearts of men? The Shadow knows!"
The Shadow (1937-54) aired "The Creeper" on May 29, 1938 and featured a young (age 22) Orson Welles as the first voice of the Shadow. Welles would step down as the Shadow in October of 1938, so this is not only one of the earliest episodes but one of the "classic" Welles-as-Shadow shows. Revealing even a little of this twisted tale might give away too much, so suffice it to say that what made this episode for me was the character of the Creeper. Whoever the actor playing this fiendish little murdering ghoul was, stole the show completely and was worth the listen in and of itself. Actors have always said that plyaing the bad guy, the villain, was much more fun; if so, this guy must have been having a ball.
It's been three months since our last The Shadow episode and we hope his fans will enjoy "The Creeper."
"The weed of crime bears bitter fruit." --The Shadow
[Cover above left: November 1, 1938 -- Above right: August 15, 1938]
Play Time: 26:18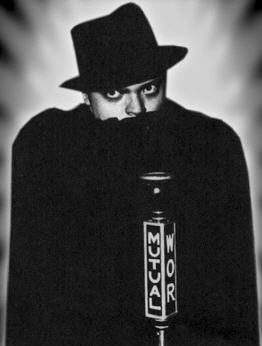 Orson Welles as the Shadow