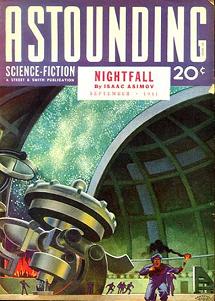 X Minus One aired Isaac Asimov's novelette "Nightfall" on December 7, 1955. Written in March of 1941 when Asimov (1919-1992) had just turned 21, "Nightfall" was his 16th published story, but the first to rate a cover spot. John W. Campbell, Jr. gave it the cover as lead novelette for the September 1941 issue of Astounding Science Fiction, also, as Asimov has noted, giving him his first bonus for the story.
When the Science Fiction Writer's of America (SFWA) decided to honor the best short SF before the organization's formation in 1965 -- those short stories and novelettes from 1929-1963 -- a year-long vote was taken of the membership and the results comprised the stories in the 1970 collection The Science Fiction Hall of Fame: The Greatest SF Stories of All Time (ed. Robert Silverberg). "Nightfall" ranked as the most popular story among SFWA voters, followed by such classics as Stanley G. Weinbaum's "A Martian Odyssey" and Daniel Keyes' "Flowers for Algernon."
Dimension X (1950-51) aired "Nightfall" as its 50th and final episode on September 29, 1951, but we prefer the version presented here.
Play Time: 28:43