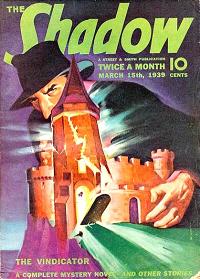 "What evil lurks in the hearts of men? The Shadow knows!"
This New Year's Eve time machine story from The Shadow aired on January 1, 1939, 73 years ago. "The Man Who Murdered Time" begins when an evil scientist out for revenge on someone he believes has wronged him invents a time machine. He uses it to halt time--in a 24-hour never-ending loop--in order to torture his victim, caring not that the entire world is also trapped within a single day -- December 31st. Held prisoner like everyone else on Earth, how can the Shadow manage to step outside of Time, destroy the time machine and set the world right again? The only way to discover the Shadow's secret is by listening to "The Man Who Murdered Time."
The long-ago year of 1939 saw the first World SF Convention in New York City, the year that city was host to the World's Fair. Franklin Delano Roosevelt was in his second (of three) terms in office as President of the United States, the pesticide DDT was invented, Gone with the Wind premiered, and Barry N. Malzberg, Michael Moorcock, and Peter Nicholls were born.
"The weed of crime bears bitter fruit. Crime does not pay!" -- The Shadow
(Cover above left: March 15, 1939 -- Cover above right: November 15, 1939)
Play Time: 28:39