"No... No... stay where you are. Do not break the stillness of this moment.
For this is a time of mystery. A time when imagination is free, and
moves forward swiftly, silently.... This is -- The Haunting Hour!"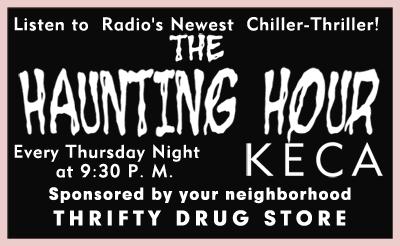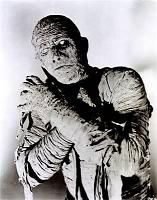 Such was the weekly introduction to The Haunting Hour (1944-46), accompanied by the obligatory spooky organ chords. As with many Old Time Radio shows, time has thrown a shroud over many of the details of this show, for no credits were given and even classic radio's most learned historians have failed to uncover names for the cast or production crew. The focus for these mystery-horror shows revolved around the mysterious and macabre nature of murder most foul, and while not enjoying the high production values of such first-rate radio dramas as Escape or Suspense, The Haunting Hour nevertheless provided perfectly adequate sound and special effects equal to the nature of the scripts.
One of its earliest episodes was "Ptolemy's Grave," in which a famed American Egyptologist mysteriously disappears into thin air while approaching his newly acquired mummy of Ptolemy III, King of Egypt (reign 246-222 BCE). What transpires next might at first seem like a typical Mummy's Curse story, but there is more deviltry afoot which must first be uncovered in order to solve the mystery of "Ptolemy's Grave."
"From shadows and stillness, mystery weaves a spell of
strangest fascination, charging the mind with doubts and fears.
For mystery is a strange companion, a living memory in The Haunting Hour."
Play Time: 25:00