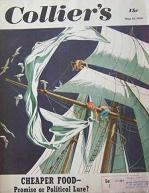 Ray Bradbury (1920-2012) saw his story "To the Future" published in the May 13, 1950 issue of Collier's. Under the title "The Fox and the Forest" it appeared as one of the stories comprising The Illustrated Man (1951). It tells the story of a scientist and his wife tired of their world of 2155 who travel to the past on a vacation provided by Travel in Time, Inc. The problem arises when they don't wish to return to their war-torn world and a "searcher" from Travel in Time, Inc. is sent into the past to bring them home, for they are needed in order to complete work on a new bacteriological weapon.
Dimension X, the forerunner to X Minus One, aired an adaptation on May 27, 1950, but we prefer this X Minus One dramatization which aired on December 14, 1955.
While we have presented six of Bradbury's radio-adapted stories thus far (the most recent being mere weeks ago), we thought it only fitting to offer yet another in lieu of his death this past week on June 6th at the age of 91.
Play Time: 28:41