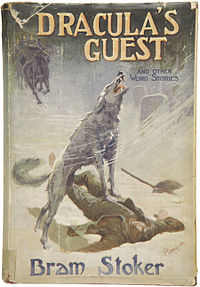 Bram Stoker's (1847-1912) "The Judge's House" first saw print in the Dec. 5, 1891 issue of Holly Leaves, a seasonal publication of the UK magazine Farm and Country (1874-1964). It became part of Stoker's 1914 collection Dracula's Guest and Other Weird Stories, and is considered by some to be perhaps his best "traditional" ghost story (of the few that he wrote).
Hall of Fantasy, originally airing out of Utah in its first of four incarnations (1946-47, 1949-52, 1952, and 1953), aired "The Judge's House" on April 3, 1947. It tells the story of a man seeking a retreat for quiet study in the old house of a deceased judge. The ensuing nightmarish events plaguing him form the crux of the tale, as he is bedeviled by seemingly intelligent rats (one "great one" in particular), and a viciously evil ghost.
Peaceful libraries in old mansions will never have the same comforting appeal after you listen to Abraham Stoker's chilling tale of "The Judge's House."
Play Time: 26:49