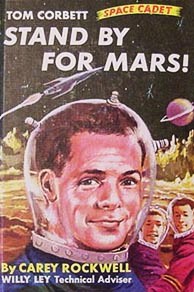 Tom Corbett, Space Cadet appeared in comics and comic strips along with its appearance on the first television series for youngsters in 1950. It was inspired by Robert A. Heinlein's 1948 novel Space Cadet, which espoused many of the moral and ethical values to be found much later in the Star Trek series'. It came to radio in 1952 initially in three 15-minute episodes per week, then as two half-hour episodes per week on Tuesdays and Thursdays.
Tom and his crew are members of the Space Academy, in training to become members of the Solar Guard, and flit around the stars in the spaceship Polaris. The crew is comprised of Tom, Astrographer Roger Manning, Astro, the alien from Venus who handles the Powerdeck, Dr. Joan Dale, Captain Strong, and Commander Arkwright, head of the Space Academy. As were Heinlein's juvenile novels, Tom Corbett, Space Cadet was well-written and well received, the stories exciting and full of action, rife with evil of all sorts and plenty of scientific gadgetry (Willy Ley, the science fiction fan and transplanted German rocket scientist, not only wrote a regular science column for Galaxy magazine from its first issue in October 1950 until his death in 1969, but was "technical advisor" for the Tom Corbett, Space Cadet magazine). The radio show ran from early January to the end of June 1952.
The two-part episode below, "The Giant of Mercury," aired on March 11 and 13th, 1952. Tom and his crew have been sent to Mercury to investigate an outbreak of Zero A fever among several groups of scientists doing secret research for the government. They soon find that Zero A fever is the least of their problems, as they are attacked by beings, creatures, things, that shouldn't exist. It's all a lot of fun and sparkles with an exciting sense of adventure.
"The Giant of Mercury" -- Part 1
Play Time: 23:23
"The Giant of Mercury" -- Part 2
Play Time: 25:41