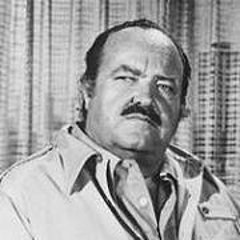 The CBS Radio Workshop came late to the Golden Age of Radio, its 84 episodes running from January 27, 1956 to September 22, 1957. It was known for its experimentation as this episode amply demonstrates."A Matter of Logic" was the show's 19th episode. It aired June 1, 1956, was written by Antony Ellis and starred William Conrad (1920-1994). Generations of television viewers in the 1970s and 1980s will remember Conrad's various roles as detective in the tv series Cannon (1971-1976), Nero Wolfe (1981), or perhaps in the crime drama Jake and the Fatman (1987-1992). Though playing a few character parts in movies, he made his primary living as a radio actor prior to his tv roles, creating the role of Marshall Matt Dillon for radio's highly acclaimed series Gunsmoke (1952-1961). Conrad's mellifluous voice could also be heard as narrator of the Rocky and Bullwinkle Show (1959-1964) and The Fugitive (1963-1967).
One finds genre-related material in the oddest places on Old Time Radio, never moreso than in "A Matter of Logic." It is a recursive exercise in that Antony (Tony) Ellis co-stars with Bill Conrad as they play themselves as writer and actor, arguing over Ellis' script, which Conrad can't understand. It's less than an hour to the current show and Conrad pleads with Ellis to explain the seemingly incomprehensible lines he is about to read for one last dress rehearsal before the show. What ensues is at times frustratingly hilarious and deadly serious, deceptively nudging the listener into the realm of metaphysics, the nature of realism, and the world of fantasy. My sympathies always fell to Conrad's line of argument as, with few modifications, it reminded me strongly of the complaint I have had at various times trying to decipher self-referential, Literary, slipstream wordplay in some genre fiction I've struggled with over the years. But then the story takes a few twists and turns and I found myself not so sure which way the final discussion was going to go.
Suffice it to say that "A Matter of Logic" is almost laugh out loud funny in spots, intellectually stimulating, and drops just the perfect ending into your lap that definitely qualifies it as genre. What would they call this story in today's parlance; urban (dark) fantasy, or magic realism perhaps? Whatever you call it, it certainly isn't what I expected, and I found it most entertaining.
Play Time: 31:27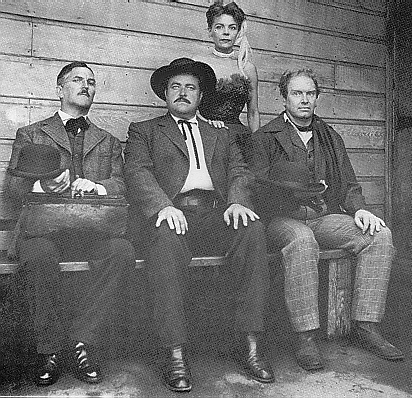 Actors from the original radio Gunsmoke
L to R: Howard McNear (Doc), William Conrad (Matt Dillon), Georgia Ellis (Miss Kitty), and Parley Bear (Chester).
If Howard McNear looks familiar, you might recognize him as Floyd the Barber on the Andy Griffith Show, and Parley Bear played the role of the Mayor on the Andy Griffith Show.