Tangent Online 2017 Recommended Reading List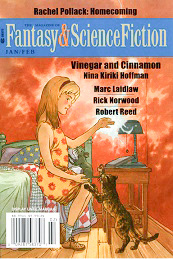 As with previous years, this list is not meant as comprehensive, there being a number of items we didn't see. As was the case with the last several years we narrowed our focus (with a few exceptions) to those stories published in professionally paying markets as defined by SFWA. While SFWA changed its pro-market requirements in 2014 to 6c/wd., we will continue to cover those markets paying the former rate of 5c/wd.
There are 378 stories on this year's list (down slightly from last year's 397): 292
short stories, 76 novelettes, and 10 novellas.
While there are few novella recommendations each year (for one thing, compared to other lengths there just aren't nearly as many published), this year includes even fewer due to the fact that one website went from posting their novellas free online (leaving their short stories and novelettes free to read), to making them available for purchase only (nothing wrong with that, but it meant we had to forego reviewing them due to financial considerations).