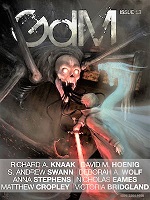 Grimdark #13, October 2017
"Like a Curse" by David M. Hoenig
"Black City Shadow" by Richard A. Knaak
Reviewed by Kevin P Hallett
The 13th issue of Grimdark has two short stories, one of which is a reprint. Plus, one original novelette.
"Like a Curse" by David M. Hoenig
This horror short story is set in the old west. Steely-eyed Tate is a gunslinger possessed by a demon that feeds off his emotions. Tate lives a demoralized life trapped by the feeder, unsure if he cares whether he lives or dies, and haunted by recurring nightmares of what he did to the love of his life.
When a young woman calls him out for a final gunfight, Tate moves with a determination to end his own personal nightmare, one way or the other.
The story had enough intrigue to keep the reader engaged. Overall it was a nice read.
"Black City Shadow" by Richard A. Knaak
Saint George, of dragon slaying fame, is the Feirie Kingdom gatekeeper in this fast-paced horror novelette. With the blood of the slain dragon in his veins, George uses The Lady's sword to find and destroy any Wyld that passes through the Feirie gate. The dragon blood is a double-edged curse that tries to take over his body, but also provides enhanced strength and vision.
Father William summons Saint George to purge Chicago's St. Patrick's church of a ghost. The gatekeeper knows it is a Wyld, and after using the sword to dispatch this latest challenge, he rests. But the Father calls him back, another creature now haunts the church. This time, George finds himself face to face with one of the most powerful denizens of the Feirie kingdom. One that has planned her revenge carefully.
The story was very well crafted, engaging the reader from the beginning. It was a difficult one to put down before the intriguing end.