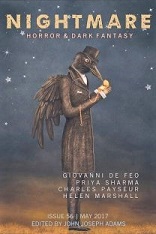 Nightmare #56, May 2017
"Kiss of the Mouthless Girl" by Giovanni De Feo
"The Sound Of" by
Charles Payseur
Reviewed by Jennifer Burroughs
"Kiss of the Mouthless Girl" by Giovanni De Feo
A work of erotic body horror, "Kiss of the Mouthless Girl" takes the reader on a weird, sensual journey through a gothic mystery. A bored young man finds his night of drinking interrupted when a one-eyed stranger buys him a beer and tells the strange tale of a beautiful woman with no mouth. Things build slowly as the one-eyed man speaks of old women hunting prey and short-lived mayflies in swarms, drawing the reader down into the young man's baffled curiosity. De Feo creates an atmosphere of pervasive creepiness that chills every scene, priming the reader for a disturbing ending. Strong prose, sensory details, and the story-within-a-story structure make a tale that should appeal to many horror fans.
"The Sound Of" by Charles Payseur
This is a slow-burning tale of one man's life in a dystopic future with an interesting twist; the Sound, a constant stream of background noise, is used to subdue and control the population. Diego, the main character, struggles against the Sound while trying to maintain a required appearance of normalcy. He and his wife participate in a state-approved religion, they do not dare to have political opinions, and can have their lives 'audited' at any time via their smart phones. I found this a frightening read set in a future that feels disturbingly close, full of familiar details and daily human struggles.