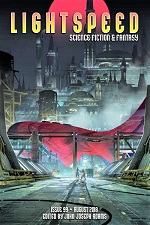 Lightspeed #99, August 2018
"A Bond as Deep as Starlit Seas" by Sarah Grey
"The Atonement Path" by Alex Irvine
"Scavenge, Rustic Hounds!" by Manuel Gonzales
"A Compendium of Architecture and the Science of Building" by Kate Elliott
Reviewed by Victoria Silverwolf
This issue offers a wide variety of imaginative fiction, with moods ranging from gentle to terrifying.
The protagonist of "A Bond as Deep as Starlit Seas" by Sarah Grey journeys among the stars in a spaceship emotionally bound to her. She reluctantly trades the vessel for another, which is much more efficient but lacks empathy. When the deal turns out to be different from what she expected, she finds herself trapped in a dilemma, with no good choices. Courage, determination, and the help of her loyal starship offer the possibility of escape, but only at great risk.
The author creates an imaginative, detailed background, which never becomes confusing. The writing is vivid and stylish. Fully realized characters make the story come to life. Readers are sure to sympathize with the protagonist's plight, and hope that she and the ship find freedom together.
"The Atonement Path" by Alex Irvine takes place in Boston in the near future. A resident of the city lectures a tourist on an unusual form of criminal justice found there. Juveniles who commit violent crimes choose to suffer traditional punishments, or to walk the road mentioned in the title. Those who opt for the latter are rendered anonymous, in a particularly unpleasant way. People are encouraged to ignore them, but some help them and some abuse them.
This is a disturbing tale, narrated in a cold, distant style. Its theme is reminiscent of "To See the Invisible Man" by Robert Silverberg. In contrast with that classic story, it lacks believability and compassion.
"Scavenge, Rustic Hounds!" by Manuel Gonzales is a surreal horror story. Vaguely described creatures infiltrate the home of a married couple. They seem intent on taking away people, apparently as a form of punishment for their vices. The husband of the narrator suffers bizarre changes in mind and body.
This strange story offers a haunting mood and a gruesome conclusion, but little else. There is no rational explanation for what happens. Perhaps the narrator is insane. If so, this does not come across clearly.
"A Compendium of Architecture and the Science of Building" by Kate Elliott takes place in a fantasy world. Certain people have the magical ability to produce cold. Those with the strongest magic are the rulers. The main character is an elderly man who lacks magic. He has won great respect for his architectural skill. After traveling for many years, he returns to his homeland. A boy from the lower class, but with powerful cold magic, hides in his storeroom after suffering a beating from boys of higher rank. The man accepts him as an apprentice. Together they make plans for his future.
This is a pleasant, if unexciting, tale, with likable characters. It serves as a prequel to a series of novels by the author. Readers familiar with the books will better appreciate it than those who are not.
---
Victoria Silverwolf thinks Stefano's, in Knoxville, Tennessee, makes the best pizza; but be sure to get Veggie Supreme with whole-wheat crust.