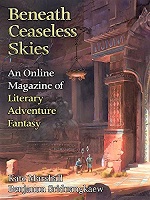 Beneath Ceaseless Skies #232, August 17, 2017
"Red Bark and Ambergris" by Kate Marshall
"No Pearls as Blue as These" by Benjanun Sriduangkaew
Reviewed by Jason McGregor
"Red Bark and Ambergris" by Kate Marshall
Sarai is captured by agents of the evil queen and taken from her beloved home to a remote and unattractive island. There she is trained to become a perfume specialist while she trains herself to be a poison specialist, because perfume folk stay on the island while poison folk may go to the queen, and Sarai wishes to at least see the court and possibly kill the queen and conceivably even return home. Her friend on the island keeps telling her the poison is not her talent and she's risking death by following that path. Eventually, the stakes rise and she must choose between the two once and for all.
This is written in the standard fairy tale tone. Emotionally, it's a bit mawkish and even resorts to saying things like,"The wind snatched at the blindfold in her hand. She let it go. The wind flung it back toward the island and crushed it against the rocks," as an indication of mood. Even if you don't think the pathetic fallacy is a fallacy, wind "crushing" cloth is certainly a flawed example. Capturing innocent people and sending them to special islands of forced servitude seems illogical, inefficient, and counterproductive, especially when it's supposed to produce people charged with guarding the queen's life. Much is made of the complicated craft of poison but to no effect other than to provide the only prominent fantasy element of the tale aside from the "nowhere land" setting.
"No Pearls as Blue as These" by Benjanun Sriduangkaew
Samonten is a woman who is "lord" of a household, primarily guarded by her "bulwark," Bidaten. Yut is a foreign woman who arrives to marry the lord but actually has designs on the bulwark, presenting her with a vision of a changed social order. The bulwark has to decide where her loyalties lie.
This is the issue's second story featuring a focus on senses (mostly taste, here), poison, and an attempt to change the social order. It is also the second to focus on elaborate fantasy elements (the concept of metamorphosing bulwarks that become more like robots, animals, or magic buildings as they age) to little actual effect. Unlike the fairy tale tone of the other, this is simply overwritten, with an excess of "cerise brocade" and "chalcedony" and so on, yet ultimately becomes monotonous, delivered with a flat affect, despite images of extreme violence such as, "Their mothers die screaming in the act of childbirth, cut open and the weapon-child carved out like the pit of a nectarine," and descriptions of fruit being cut as though "everything is a throat in urgent need of being garroted."
---
More of Jason McGregor's reviews can be found at Featured Futures.