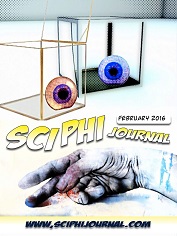 Sci Phi Journal #10, February 2016
"The Back of Stars" by Jake Teeny
"
Rolli and Curve" by James Fitzsimmons
"
Grass is Grass" by Luc Reid
"
Dressed in Black" by Filip Wiltgren
"
Fresh Frontiers, Inc" by Jason Lairamore
"The First Martian Church of God" by David Wiley
"Higher Powers" by Lou Antonelli
Reviewed by Kevin P Hallett
The 10th issue of this new ezine has eight original stories, ranging from flash fiction to short story lengths. I found two of the longer stories to be okay reads.
"The Back of Stars" by Jake Teeny
This flash science fiction story explores a very human reaction to the idea of infinite parallel universes. In the end, the protagonist must learn a lesson we all need to learn as we mature – that not everything turns out.
The story dealt with human psychology, but I would have preferred more depth to the main character to make the story engaging.
"Rolli and Curve" by James Fitzsimmons
"Rolli and Curve" is a science fiction tale about Jan, a death mute scientist who has discovered that a new and unusual alien life form is sentient and to be protected. After learning to communicate with these seemingly insignificant creatures, Jan joins them to battle against human greed and prejudice even as she also fights against her own personal doubts.
I found the multi-faceted story appealing with interesting sub-plots. Though the dialog was a little static at times, I did enjoy the read.
"Grass is Grass" by Luc Reid
The reader can place this flash fiction as either science fiction or fantasy. It poses the question of who is really in charge of our planet. Should we be so complacent about our role or are there other combatants in an ancient war manipulating us to help them.
I thought this was an okay throwaway read, reminding me of some short Beatles songs, pleasant to hear but it didn't leave a lasting impression.
"Dressed in Black" by Filip Wiltgren
Filip gives us a flash science fiction story about Rao, a 4-year-old boy attending the funeral of his "real-mom". The author gives us flashes of a future where kids are still kids, everyone has multiple parents, and disease is not yet conquered.
I found the story easy to read, a nice ten-minute diversion during the day.
"Fresh Frontiers, Inc" by Jason Lairamore
Gus is a theoretical physicist in this persuasive glimpse into a future where people have become too satisfied to want to achieve anything anymore. Dismayed at his daughter's indifference to advancement, Gus releases his invention that will turn the world on its ear. He previously held back this invention knowing it carried great risk for the inventor from global corporations, but he was desperate, and now faced desperate consequences.
I thought the story's premise was interesting and written well enough to enjoy.
"Nested" by Wole Talabi
This flash science fiction tale deals with our ideas of life after death and poses some interesting questions. An entirely different view of what could be.
I found the story quick and the challenges to our ideas and hopes intriguing.
"The First Martian Church of God" by David Wiley
The idea put forth in this science fiction story is that spreading Christianity to aliens should be done with humility and an adherence to the basic principles. Spender sees several failed attempts to establish a Christian mission on Mars to preach to the newly discovered Martian life. Spender realizes he would have to strip away all the modern baggage of religion if he were ever to get a chance to go to Mars to preach.
The notion is an interesting one, but the author should have portrayed it against a better background. This story has a few concepts that strained my credibility beyond breaking, including the existence of sentient life on Mars, Churches rushing missionaries when they don't know what form that life takes, and a private citizen fueling a shuttle and flying it to Mars. I would have preferred to see Spender's character developed beyond the quiet, pious label he bore.
"Higher Powers" by Lou Antonelli
"Higher Powers" is a flash science fiction story about Reeves, who has luckily survived his spacecraft's rapid demise. Now he faces an inevitable death as his oxygen runs out and there has been no emergency beacon sent. Even as he faces a slow death, his reactions may determine his ultimate survival.
I found this pedestrian story pushed my sense of reason too much to be enjoyable with some elements found more often in fiction from twenty or more years ago.