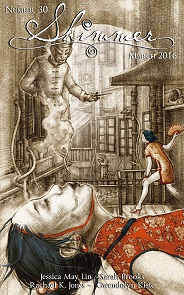 Shimmer #30, March/April 2016
"Red Mask" by Jessica May Lin
"Blackpool" by Sarah Bricks
"Indigo Blue" by Rachel K. Jones
"All the Red Apples Have Withered to Gray" by Gwendolyn Kiste
Review by Natalie J. Havlina
This month's issue of Shimmer features four compact pieces well worth reading, as well as an Editor's Note in the form of a poem. Cheers to editor E. Catherine Tobler for this nice touch!
The Shanghai of Jessica May Lin's "Red Mask" is a city distorted by collective anger. When dancers from the Green Dream opium den begin to be murdered and their melted faces displayed for sale to collectors, senior dancer Xiao You sets out to kill the murderer with help from the Three Fists Gang and the ghost of her friend, Feng Guniang. The ensuing confrontation with the murderer costs Xiao her own face and ultimately leads to Xiao's transformation and Feng's departure.
Lin has given us a compelling story that contrasts the grime and grit of a corrupted Shanghai with flashes of beauty. Xiao and Feng's characters, as well as their relationship, ring true. Its themes of anger, disfigurement, and courage bind the strands of the plot together for a cohesive story and a satisfying ending.
"Blackpool" by Sarah Bricks opens with an unknown, murdered man whose name we never learn falling off of a pier and into the North Sea. A character identified as "the Detective" investigates the murder around Blackpool and Pleasure Beach, while "the Assassin" throws knives and gambles. "The Barmaid" pulls drinks, listens, and "cries real tears."
Although "Blackpool" is artfully executed, I did not enjoy reading it. The setting is skillfully portrayed and the story effectively plays on anonymity to highlight the human desire for recognition. However, the story's choppy style did not engage me and the clear images evoked did not make up for the inability of the intentionally-generic characters to gain my sympathy. "Black Pool" elevates ideas over plot and character, and while I generally enjoy contemplating the human condition, it just did not work for me in this case.
In "Indigo Blue," Rachel K. Jones introduces us to Lucy, an unsuccessful musician living on the planet Violet. Lucy is trying to catch a shuttle to the planet Indigo to visit her friend Justin and his family. Indigo only orbits close enough to Violet to allow passage once every twelve years, however, and Lucy has sold her ticket to pay for the pills she takes to combat a deadly mitochondrial disease. With the window for passage narrowing by the day, Lucy has to decide what she will do to make her trip to Indigo possible.
"Indigo Blue" is worldbuilding at its best. Jones paints pictures of Violet and Indigo that feel natural and create a strong sense of place. After reading the story, I'd like to visit both planets. Setting is by far the dominant element in the story and it works well with Lucy's internal reflections. The plot, though not especially exciting, is appropriate for this dreamy, contemplative piece, and Lucy's character feels authentic. Unfortunately, the minor characters—even Justin—seem flat.
"All the Red Apples Have Withered to Gray" is a dark fairy tale that challenges multiple classics from a feminist perspective. In a rural area long barren, a young girl and her father are fighting to eke out their livelihood from a withering apple orchard. One day, they find a girl sleeping in the orchard, poisoned by her first bite of a stolen apple. The narrator's father brings a prince who kisses the girl, marries her, and whisks her away to a distant, unknown kingdom. The father begins charging for use of his orchard and soon all of the local families are sending their daughters to eat apples in the hope that they too will be kissed by a prince.
Gwendolyn Kiste's story cleverly reverses a number of fairy tale conventions, but maintains the spirit of the genre with a dangerous forest and the kind of logic—or lack thereof—found only in fairy tales. The figurative language is beautiful and the ending is satisfying. The only thing that bothered me was Kiste's decision to leave the narrator nameless, as this made it more difficult for me to relate to her. Yes, there are fairy tales with unnamed protagonists, but such anonymity is not universal. In my opinion, failing to name the narrator and the other girls in the story contradicts the otherwise strong message that women are subjects rather than objects.