by
Dave Freer
(Baen, April 2016, tpb, 282 pp.)
Reviewed by Dave Truesdale
As anyone who has read the early Young Adult novels (or Juveniles as they were once called) of Robert A. Heinlein or Andre Norton back in the 1950s can attest, they are just as rewarding and page-turning as any novel written for adults. While there have been many of these YA novels written since the days of Heinlein and Norton, their appeal is as popular as ever. In fact, the past several years have seen a small explosion of them in hopes of attracting young readers to science fiction and fantasy.
Veteran Australian author Dave Freer's charming Changeling's Island carries on the YA tradition admirably, as he sets middle-school aged Tim Ryan several life-altering challenges, not least of which is that part of him which is connected to faerie and explains the often troublesome ability he has to manipulate objects with his mind, for Tim doesn't realize he is what his mother calls a changeling.
The story begins in present day Melbourne, Australia, where young Tim is not a happy teenager. He has no friends to speak of except for Hailey, the gorgeous and manipulative girl who has learned her power over boys at an early age and who has Tim wrapped around her little finger. After Tim gets unjustly accused of a shoplifting rap of Hailey's doing, his mother has had enough of Tim's minor misbehaviors (Tim's parents are separated) and sends him to live with his crazy grandmother on her broken down farm on Flinders island, which is situated off the northeastern tip of Tasmania. A rural and more laid back environment, the folks make their living from the fishing industry and tourism.
Following the plane ride to the island—during which Tim meets a nice young girl also on her way to the island, and who becomes his friend and love interest later on—Tim finds himself in an alien environment radically at odds with the hustle and bustle of life in Melbourne, removed from the teasing and bullying of his classmates as well as the comforts (wifi access, etc.) coming with life in a large city. And here Freer captures the sights, sounds, and flavor of his adopted home like few others could, drawing the reader in to this rough seacoast land near the bottom of the world first hand, much the same way young Tim experiences it.
Enrolled in the small local school (varying grades clustered together), Tim's life with his grandmother (who is always having conversations with things he cannot see and so buys into her reputation as being a crazy old woman), Tim is forced to milk cows, herd sheep, and learns to hunt fish with a spear. Not the life he has been used to as a city boy, he is now in a strange land, initially has no friends, and is unnacustomed to hard physical work.
Soon enough Tim falls into his new life, meets the townfolk, is befriended by a local fisherman who takes him under his wing, and discovers he has an affinity for the job and enjoys the hard work (for which he is paid, a welcome benefit). But all is not roses, for there are those who are plotting to take his grandmother's farm for their own ends, a drug trafficking enterprise thrown into the mix, and bubbling beneath the surface is his connection to an object from the land of faerie which he learns only he can find due to his half-faerie heritage, and which the dark forces of faerie—in the shape of a seal woman only he can see in her seal form—are attempting to seduce him for their own power-hungry desires, for it would be the last piece in their plan to destroy humankind and raise the realm of Faerie to pre-eminence over the land of mortals once again.
At the center of it all then, is Tim. Assigned the role of the outsider, the misfit teenager with whom many of today's youngsters can readily identify, Tim learns personal responsibility through hard work, comes to understand the importance of loyalty to family and friends (and who his real friends are), and through courage and self-sacrifice deals with not only his real life challenges but the more overriding threat from powerful beings from Faerie who have discovered him from half a world away and attempt to bend him to their will.
Changeling's Island is an adventure story on one level, but rewards also for its depiction of the emotional stress many teenagers must live through and hopefully overcome during those years where they find themselves (for whatever reason) the outcast or seemingly friendless, only to discover later in life that like Tim Ryan they possess their own (sometimes hidden) special abilities.
Changeling's Island is a delightful contemporary fantasy for all ages, but for parents with teenaged children who might benefit from a positive influence through the reading experience (and perhaps more so in single parent families), I highly recommend this novel. It would make a great gift any time of year, or a welcome stocking stuffer for those so inclined.
---
Dave Freer is the author of more books than he has fingers and toes to count them on. Some of them blundered onto the Wall Street Journal and Locus bestseller lists before respectable novels got together in a body and threw them back in the gutter where they belong. Freer originally trained as an Ichthyologist, working for fisheries as the Chief Scientist on the Commercial Shark Fishery in the Western Cape (South Africa) but was tricked into writing by being told the hours were better, the meals more regular and the spelling requirements easier. They lied on all counts, but Freer is gullible. That's why he has spent an inordinate amount of time clinging to cliffs by his fingertips, wondering when he's going to fall to a sticky death, or arm-wrestling rock lobster in narrow underwater caves in a 'who-gets-to-eat-who' contest. If there is some job no sane person would take on, he's probably made a horrible mess of it. It does give him something to write about, in between these forays. He now lives on Flinders Island, in the middle of Bass Strait, loved by his dogs, ruled by his cats and survived by his wonderful long-suffering wife. She puts up with his sense of humor and corrects his grammar, possibly because he does the cooking – which he does better than he writes, and she likes rock lobster.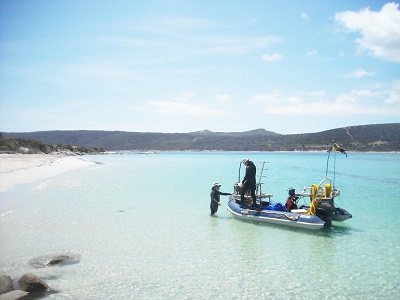 ♣ ♣ ♣
Dave Truesdale has edited Tangent and now Tangent Online since 1993. It has been nominated for the Hugo Award six times, and the World Fantasy Award once. A former editor of the Bulletin of the Science Fiction & Fantasy Writers of America, he also served as a World Fantasy Award judge in 1998, and for several years wrote an original online column for The Magazine of Fantasy & Science Fiction. Now retired, he keeps close company with his SF/F library, the coffeepot, and old movie channels on TV. He lives in Kansas City, MO.