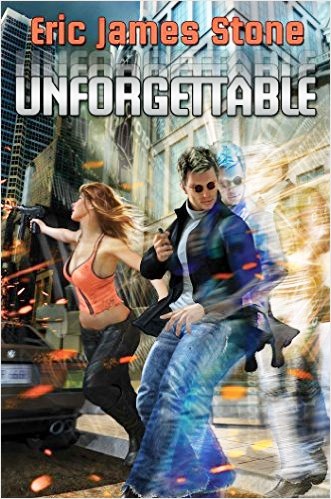 Unforgettable
by
Eric James Stone
(Baen, January 2016, 248 pp., tpb)
Reviewed by Dave Truesdale
With his debut novel, Nebula award winner Eric James Stone has masterfully wedded the immensely popular spy thriller with one of the cleverest science fiction takes dealing with quantum mechanics I have ever read.
Imagine, if you will, that due to a quirk of nature (a set of circumstances passed on to you through your mother and of which she is unaware) that no one remembers you one minute after you leave their presence. Your parents forget to take you home from the hospital following your birth, and wonder why they were there. Mistake finally corrected, your mother must pin a note to you each night to remind her in the morning that you are her son. This odd circumstance also affects computer records of you, which are erased as if they never existed a minute after they are entered. Growing up, dating is impossible. If your date leaves the table at the restaurant at which you are dining to visit the ladies' room for more than a minute, she has no idea who you are or why she is there. The same reality holds true for teachers and classmates—a minute away from their immediate presence and you cease to exist for them—which is why you have been home schooled. Literally "out of sight, out of mind" is your reality.
Such is the plight of Nat Morgan. Basically a good sort, he nevertheless falls prey to the indiscretions and poor judgment of youth and takes advantage of his "ability." He turns to petty theft, knowing that once he is out of line of sight of any crime he has committed for more than a minute he is home free, for even those who may have seen him steal this or that from a store won't recognize him. And then one day his life changes while watching a James Bond movie, and he decides to join the CIA to do something positive with his life, which he finds is not as easy as it seems. He shows up for an initial interview and is basically shown the door. Returning a minute later (several times) after being rejected each previous time, he finally, through his cleverness in figuring out how to provide proof of his unique ability is hired, trained, and given a top priority assignment in Europe, that of stealing a quantum chip prototype with not only Earth-shaking, but Reality-altering possibilities.
Of course, there are unforeseen obstacles which he must overcome on the fly, not least of which is a beautiful Russian spy after the same quantum chip, a brilliant Iranian physicist who wishes to defect, and an evil billionaire who is building a quantum supercomputer, the McGuffin quantum chip the missing element in his bid to shape Earth's reality as he desires, turning it into a one-man totalitarian dictatorship that he can change to suit his whim at any given moment. The stakes are enormous and failure is not an option.
Needless to say, the devil is in the details, and Stone has worked them out ingeniously at every point, setting himself auctorial challenges each time he places Nat in tight corners and deadly situations from which even his ability may not prove enough to extricate himself (and there are several; no quantum ability, easy escape, deus ex machina laziness here on the part of the author).
Though the discovery of the underlying quantum world has proven such fertile ground for the imaginations of science fiction writers for many decades now, its guessed-at nature and presumed properties having been speculated on and written about in the most bizarre and creative ways a hundred times over by ever more clever SF writers, fictional uses for these strange quantum energies and how they may manifest themselves under yet unknown means via human experimentation and manipulation we have still only begun to explore.
That said, Eric James Stone has come up with one of the most well-conceived, well thought out, and dare I say unique ideas dealing with quantum mechanics I have ever encountered. Seamlessly woven at every step to the tried-and-true spy thriller to such a degree that the story could not have been told without its crucial SF element (and how often do you see that these days?), Unforgettable gives the reader as entertaining and thoroughly pleasurable a reading experience as you are likely to find. And at a refreshing 248 pages with not a word wasted. You don't find but a rare few books like this one anymore—a terrific SFnal idea with an author in such control of his material at every level that he more than gives the reader their money's worth in a lean, mean 248 pages—and who makes it look easy. The late, legendary Analog editor John W. Campbell, Jr. would have been proud.
♣ ♣ ♣
Dave Truesdale has edited Tangent and now Tangent Online since 1993. It has been nominated for the Hugo Award six times, and the World Fantasy Award once. A former editor of the Bulletin of the Science Fiction & Fantasy Writers of America, he also served as a World Fantasy Award judge in 1998, and for several years wrote an original online column for The Magazine of Fantasy & Science Fiction. Now retired, he keeps close company with his SF/F library, the coffeepot, and old movie channels on TV. He lives in Kansas City, MO.