Robert Weinberg continues his personal look back at the earliest years of his almost four decades of collecting science-fiction and fantasy art with this third installment, which he titles "Meet Marty G." Bob tells about getting art from some of the early practitioners of SF and Fantasy art, including Margaret Brundage, H.R. van Dongen, and Ed Valigursky. This installment introduces another major influence on Bob's collecting: Martin Greenberg. Once again, we thank Bob for providing this on-going historical perspective (which has all the earmarks of a book in the making somewhere down the road), and also for providing select pieces from his personal collection to enhance his fascinating narrative.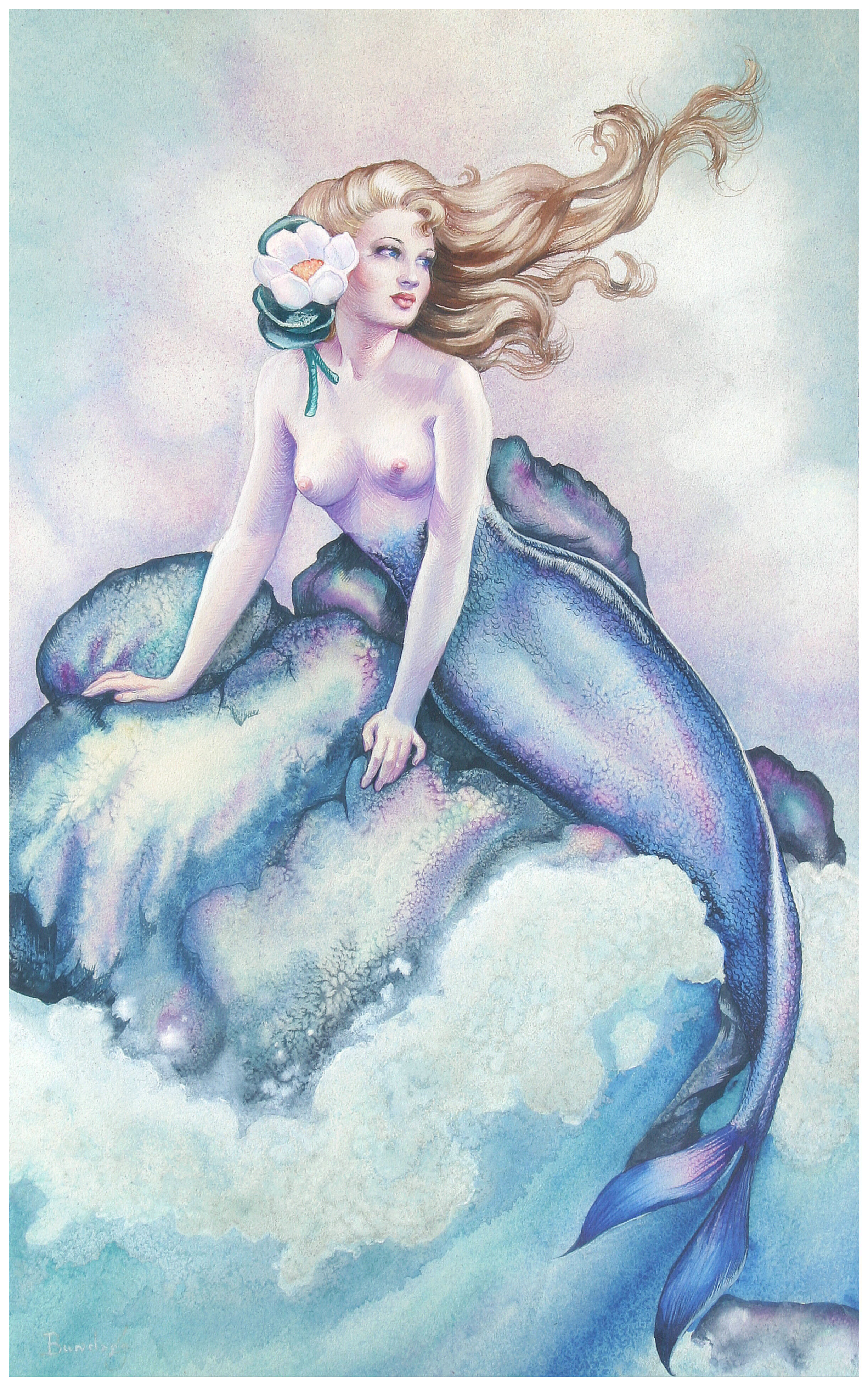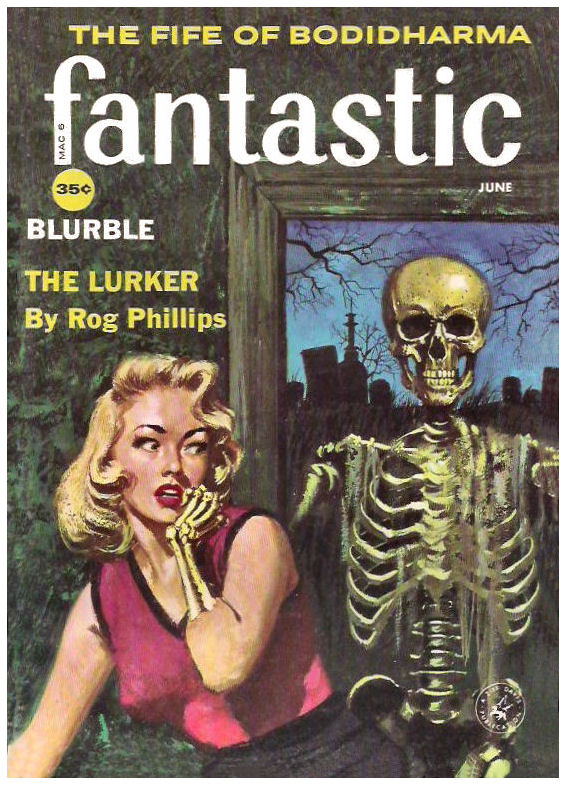 (Cover painting at left by Margaret Brundage. Cover at right by Ed Valigursky for Fantastic, June 1959.)
Collecting Fantasy Art #3
Meet Marty G.
By Robert Weinberg
Copyright © 2010 by Robert Weinberg
—One—
Last column I described the excitement of buying the original art collection of Earl K. Without question, that was one of the best deals I made during the first ten years of my collecting original SF art. But, it wasn't the only such deal. During the late 1970s, it seemed like every time I turned around, I stumbled across more art. The biggest problem I had wasn't finding original art, but affording to pay for it.
In 1975, Phyllis and I attended the Gold Coast Art Fair which was held each summer in the Rush Street neighborhood of Chicago. Numerous artists displayed their original paintings and craft art at the show. Some of the artists had been exhibiting at the Fair for decades. One such artist was Margaret Brundage, the famous Weird Tales cover artist. While Mrs. Brundage didn't have any of her Weird Tales covers for sale, she always had a painting or two.
Phyllis and I had heard that Mrs. Brundage set up at the Fair and so we went and looked her up. To our surprise, she was not surrounded by fans anxious to interview her and perhaps take their picture with her. In reality, no one seemed to care that she was there or that she had a famous past. I cared, and I interviewed and talked with Mrs. Brundage for several hours. It was a wonderful time and we got along well.
The next year, Phyllis and I returned to the Fair and once again looked up Mrs. Brundage. This time, she had brought two paintings with her that she had painted around 1950. Both were quite large and signed twice – once at the edge of the painting and once closer to the middle, where she had matted the painting. The inner signature she had written in a hurry and looked like "Bundage" instead of "Brundage." No matter, as I knew the art was hers. Both paintings were nudes – one was a mermaid, the other was a South Sea Island bathing beauty. Mrs. Brundage had painted them using hand-made watercolors and she wanted $100 each for them. I had some extra money with me and bought them both.
The South Seas painting I traded to another art collector a short time later. The mermaid painting I kept and I own it still. It has to be the most unbelievable find I bought in my first decade of collecting.
Another small deal I was involved with during the late 1970s involved magazine and paperback artist, Ed Valigursky. This deal I coordinated with my partner in the rare art business, Victor D. In conversation with Gerry de la Ree, I learned that science fiction illustrator Ed Valigursky lived in north New Jersey. Gerry was nice enough to supply me with his address. I gave the address to Victor, who was living in New York City at the time, and he wrote to the artist, asking if he might have some of his early paintings done for the science fiction magazines for sale. Valigursky answered that he did have a few and would sell them as a lot. So, Victor went out to see the artist in New Jersey and bought the paintings.
I don't have any records from 1976, but I vaguely remember that we obtained about a dozen paintings. They were all fairly small, around 8"x11" or 9"x12" in size, and had been used as covers for Amazing Stories or Fantastic in the 1950s. Victor kept two of the pieces for his collection and sent me the rest. I also kept two and marked the rest for sale. I still own one of the two, the cover painting for the June 1959 issue of Fantastic. Complete with an animated skeleton, it is a masterwork of weird menace. That year I brought the remaining paintings to Windycon II, which was held in downtown Chicago. Though I priced the paintings at $100 each, a good price, no one bought any. In those days, hardly anyone was interested in art that wasn't recently published. There were only a handful of collectors nationwide who were interested in science fiction magazine art from the 1940s, 1950s, or 1960s. And of that handful, none of them were at Windycon.
I did manage to sell those eight paintings to art collectors who numbered among my regular customers. However, it took a good amount of effort and I'm sure I had to bend my prices a little. These days, I'm sorry I did. I should have bought those paintings myself and kept them as an investment. Recently, one of those pieces sold on ebay for $5,000. That's a pretty nice markup even over thirty-five years!
Meanwhile, by early 1978, the excitement of the Ace art deal had died down. It's hard to imagine that collectors could get bored with the hundreds of Ace science fiction paintings available for sale, but that's exactly what happened. There just weren't that many art collectors who were willing to invest their money in paperback art. After a year or so of the Ace covers being available for sale, most buyers had what all they wanted. When I attended the World Fantasy Convention in Dallas/Fort Worth, Texas, late in 1978, I brought several science fiction- and fantasy-oriented paintings with me to display and hopefully sell. These were attractive pieces done by Ed Emshwiller, Ed Valigursky, and Kelly Freas and were priced at $100 to $125 each. At the show, I didn't sell one painting. I gave one cover, for The Macabre Reader by Ed Emshwiller, to my business partner, Victor D. Ray Walsh sold the cover painting for The Greatest Adventure by John Taine to Stuart S. That was it for selling Ace covers at the show.
The art that did attract a lot of interest was in the art show. Michael Whelan had just completed a series of paintings for Ballantine Books illustrating the Mars series by Edgar Rice Burroughs. The stunning large size wrap-around cover paintings were on display in the art show and were for sale at $900 each. I believe several of the best pieces were sold that weekend. I had the money but not the desire. After all, I could buy ten Ed Emsh paintings for the same price! I didn't buy one of the Mars paintings and have regretted it ever since. Those Mars covers have become incredibly scarce and incredibly expensive. Predicting the value of artwork is incredibly difficult. Nobody's perfect, especially not collectors.
—Two—
I found other uses for my extra art money. In 1976, Ballantine had published a large size softcover book titled Fantastic Science Fiction Art, edited by Lester del Rey. The volume consisted of page after page of full color reproductions of science fiction magazine covers from the 1920s and 1930s, with commentary by Lester del Rey on the importance of the magazine to the history of science fiction. While the book got fairly good reviews, I wasn't really interested in the contents. I owned all the magazines and knew why they were important. What mattered to me was that Lester reprinted several magazines with covers by Henry Richard van Dongen, an artist who started out in the pulps but later became the primary cover artist for Astounding Science Fiction from 1953-1960. Most interesting was the fact that on the copyright page of the book, the art was credited as having been reprinted "by permission of the artist." That meant that Lester del Rey had been in touch with H,R. van Dongen when editing the book and had gotten his permission to use his art. I reasoned that if van Dongen was still alive, he might own some of the covers he did for Astounding SF. I knew Lester del Rey casually. So I wrote him a letter asking if he had van Dongen's address and could I have it. Sure enough, by return mail, Lester sent me the artist's address. All I needed to do was send him a letter asking if he might have some of his old cover paintings. That was all.
It took me more than two years to write to Henry Richard van Dongen. During that time, I still collected art. I was involved in several other deals like the Valigursky one I described above, but I just never wrote to van Dongen. My brain froze. During that time, all I could think of were several minor covers that van Dongen had executed for Astounding SF. All I remembered were those static creations that were dull and lifeless and had none of the excitement of quality science fiction. I didn't write to van Dongen because I didn't think it was worth learning if he had any of his old paintings or not.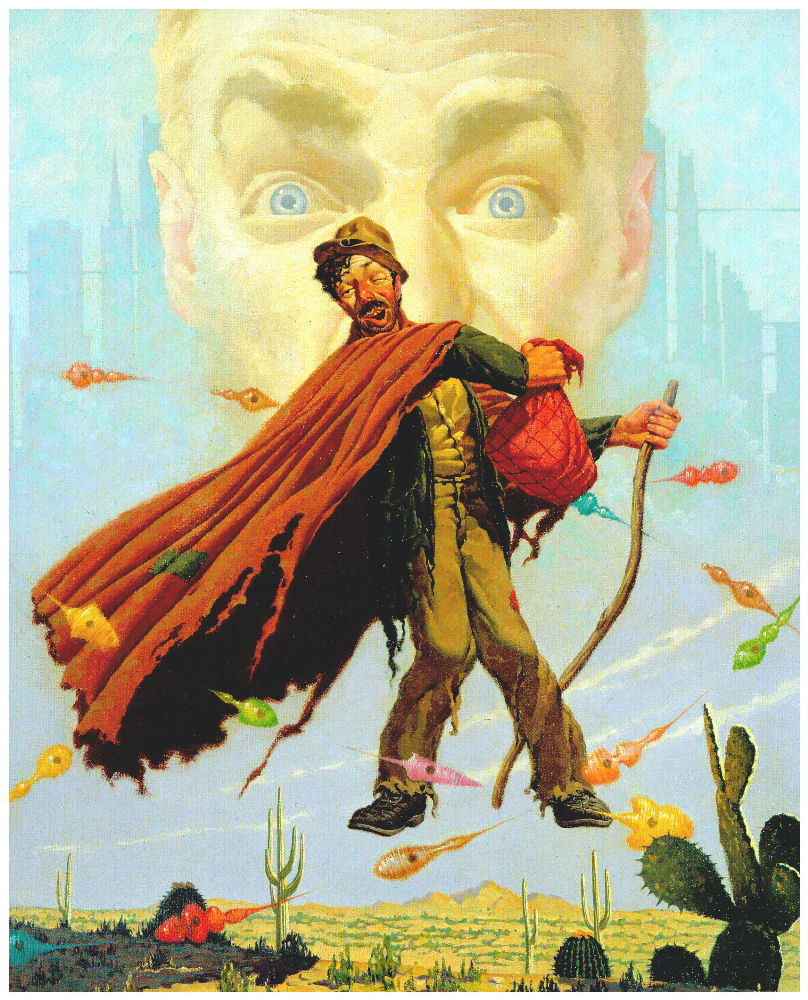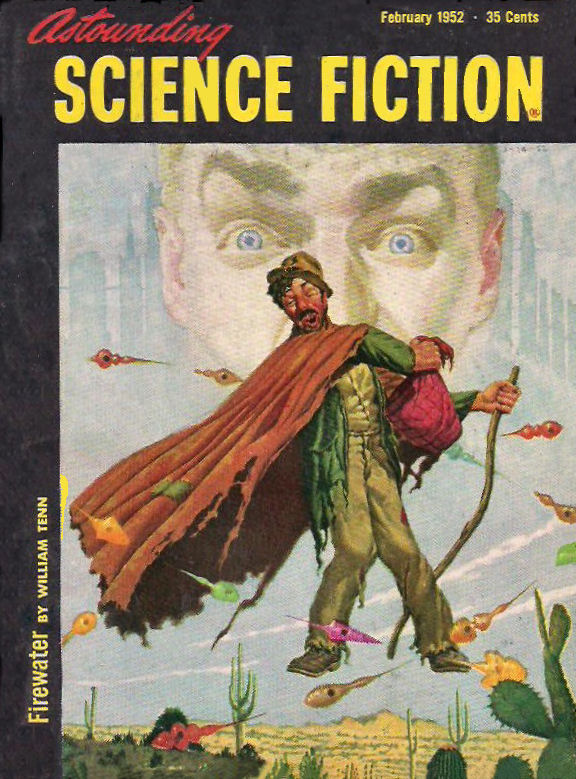 (Image left: H.R. van Dongen original illustration for "Firewater," by William Tenn, February 1952 Astounding. Image right: published cover.)
Fortunately, one afternoon Alex E. and his wife, Phyllis, were visiting us to look at Ace covers. Talk drifted to original art and somehow I mentioned to Alex that I had Henry Richard van Dongen's address but that I had never written to him. And I admitted that I doubted that I ever would.
Alex was shocked. He couldn't believe that I had the contact information for a major artist who had illustrated the most important magazine in the science fiction field for years and had never tried to contact him. When I confessed that van Dongen's art didn't excite me, Alex reeled off painting after fabulous painting to demonstrate how wrong I was. It was this passionate listing of van Dongen masterworks that made me realize how stupid I had been. I had not done my homework regarding this fine artist. While it was true that van Dongen had painted a number of plain covers for Astounding, he had painted an equal number of exceptional pieces. If I had spent the time looking, I would have realized that.
I learned my lesson that afternoon and it's one that I've never forgotten since. . Even the best illustrators have produced minor works, and some of the most minor artists have painted masterpieces. Don't ever rely on your memory, no matter how good you think it is, when evaluating the art of an illustrator. Knowing which of his pieces to search for is the secret to buying masterpieces!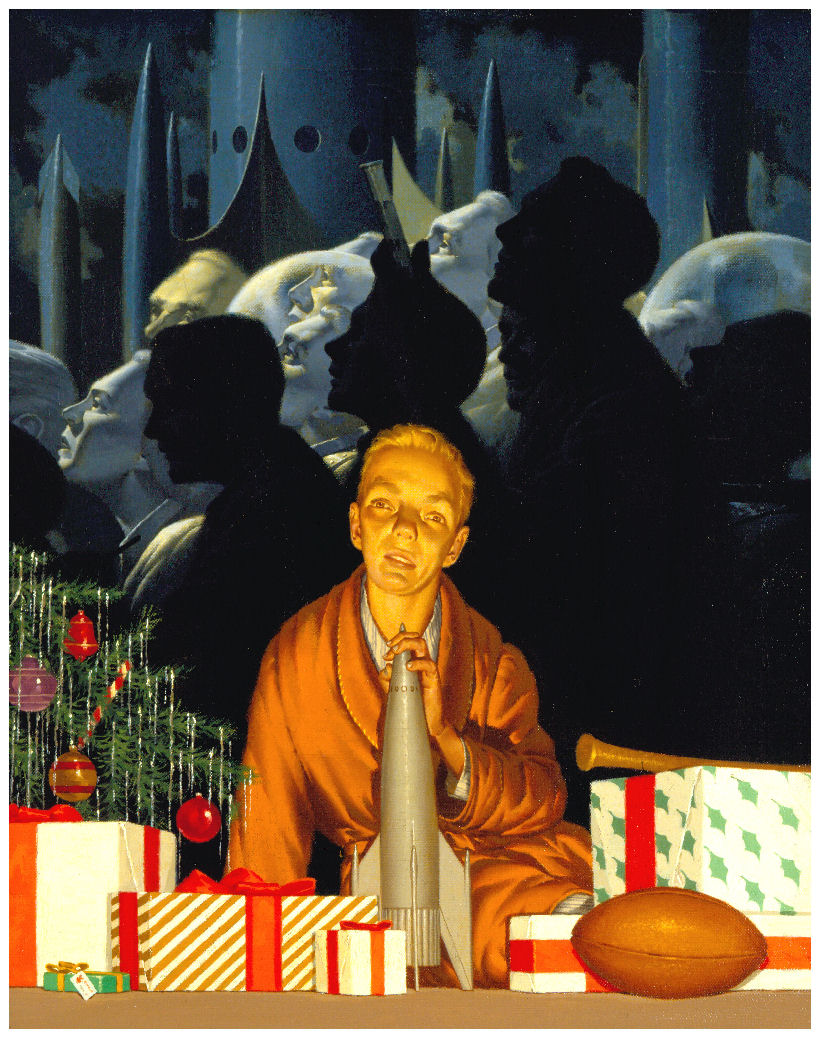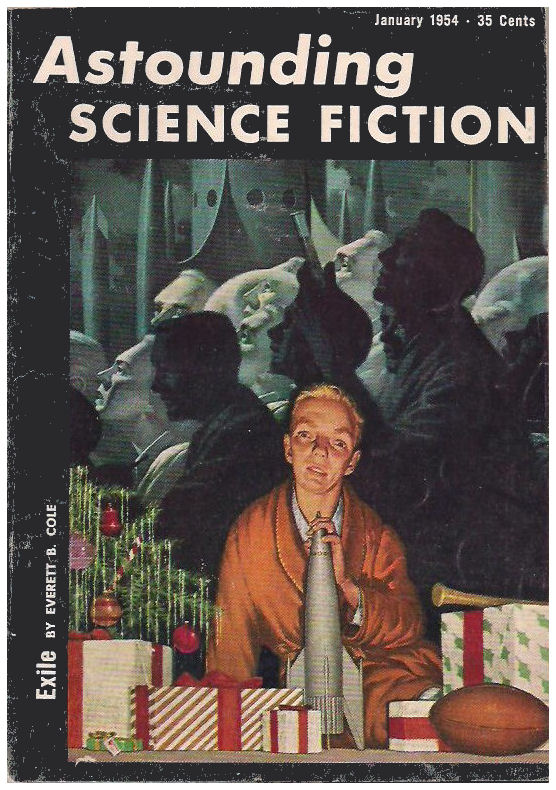 (Image left: H.R. van Dongen original illustration for "Exile," by H. Beam Piper and John J. McGuire, February 1953 Astounding. Image right: published cover.)
I wrote to H.R. van Dongen the next day. We exchanged several letters and after a few months, I bought approximately ten cover paintings he had done for Astounding Science Fiction in the 1950s. I sold seven of these and kept the three best. The three I saved illustrated William Tenn's "Firewater" (Feb. 1952); "Null-ABC" (Feb. 1953) by Piper & McGuire; and the January 1954 Christmas cover. The first two paintings mentioned were in fair condition, covered with dirt and dust. Van Dongen had kept the pieces in his attic for years. The only piece that didn't need cleaning and minor restoration work was the Christmas cover. John W. Campbell Jr, the editor of Astounding Science Fiction had liked that one so much he had kept it hanging in his office for years. I was glad to get it, and I treasure all three of my van Dongen paintings. Most of all, whenever I look at them I remember how foolish I had been and promise myself never to be so dumb in the future. I learned my lesson.
—Three—
The late 1970s were an incredibly busy time for me as an art collector. Partly through my own efforts and partly due to luck alone, I found myself involved in one deal after another, all concerning rare and interesting art.
In mid-1977, FAX Collectors Editions published my book, The Weird Tales Story, a 110,000 word history of Weird Tales, WT50, which I had self-published in 1973 as a tribute to the 50th anniversary of the founding of Weird Tales. In both volumes, I wrote extensively about the art used by the magazine to illustrate its contents. Still, I was pleasantly surprised to hear from Vincent Napoli, an artist who had composed interior illustrations for the magazine in the 1930s and the late 1940s. Napoli and I corresponded for months and I asked him numerous questions about working for Weird Tales. Needless to say, talk also turned to original illustrations and I was able to buy nearly a dozen originals he still possessed from Weird Tales along with all of his correspondence with the magazine's editor, Farnsworth Wright.
Ted Dikty, the co-owner of Fax Publications, had been an active SF fan in the 1940s and 1950s and he still exchanged Christmas cards with some of the artists who had worked for Ziff Davis publications in the 1940s. Ziff Davis had been the publisher of Amazing and Fantastic Adventures during that period and had used a staff of artists to do all of their covers and interiors. Ziff Davis had sold both magazines to a New York firm in 1950 and most of their artists had left the city. But not all. With Ted's help, I contacted the ones who were still around. Of them, just about all had nothing left from their pulp art days. But one did. His name was Rod Ruth.
Rod Ruth had primarily been an interior artist for the SF pulps and the western pulps published by Ziff Davis. He was a pleasant, easy-going fellow who was quite friendly and informative to a young art collector like myself. He only had one painting from the SF magazines, the cover illustrating "The Outlaw Queen of Venus" by Wallace West from Fantastic Adventures, February 1944.
Rod had been close friends with Malcolm Smith, who had been one of the mainstays of Ziff-Davis magazines. Though Smith had died a few years before, Rod still was in touch with his family and he felt sure they had some paintings. And that they would be willing to sell them to me.
They were, and I ended up with the "Outlaw Queen" cover from Rod as well as several other excellent Ziff Davis originals from the Smith family. A few years later, I sold the Rod Ruth painting. Recently, it showed up in a Heritage Galleries Art Auction. In the 1970s, it felt as if wherever I turned, there was old original artwork for sale. I kept on stumbling across it.
Every summer, I served as co-chairman of the Chicago Comic Book Convention. In the 1970s, we held the convention in downtown Chicago at the Pick-Congress hotel. While conic book conventions were usually not the place to find original science fiction art, every rule had an exception or two. In the late 1970s, a man wandered into the comic con with a colorful painting under one arm. He went to all the art dealers at the show and told them his story. The gentleman had worked for Fate magazine which was published on the north side of Chicago. He had been employed by the magazine for years with no problem. Then, recently, his salary had been cut in a cost-saving move. He had protested but with no luck. However, the magazine had a file of all the cover paintings they had used over the years. The disgruntled employee had gone through the file and pulled out an original cover painting to make up the difference in his salary. The editor of the magazine had agreed to his taking the original and that was that. Now the employee was hoping to sell the piece to make up the money cut from his salary.
An odd story, but not outrageous. What made the story interesting was that the cover was one of two paintings that had been done by Virgil Finlay. It was titled "How to Hypnotize" and it was stunning. After much bargaining and negotiating with the owner and other dealers in the room, I ended up with the painting. It was my first Finlay cover painting, but definitely not my last.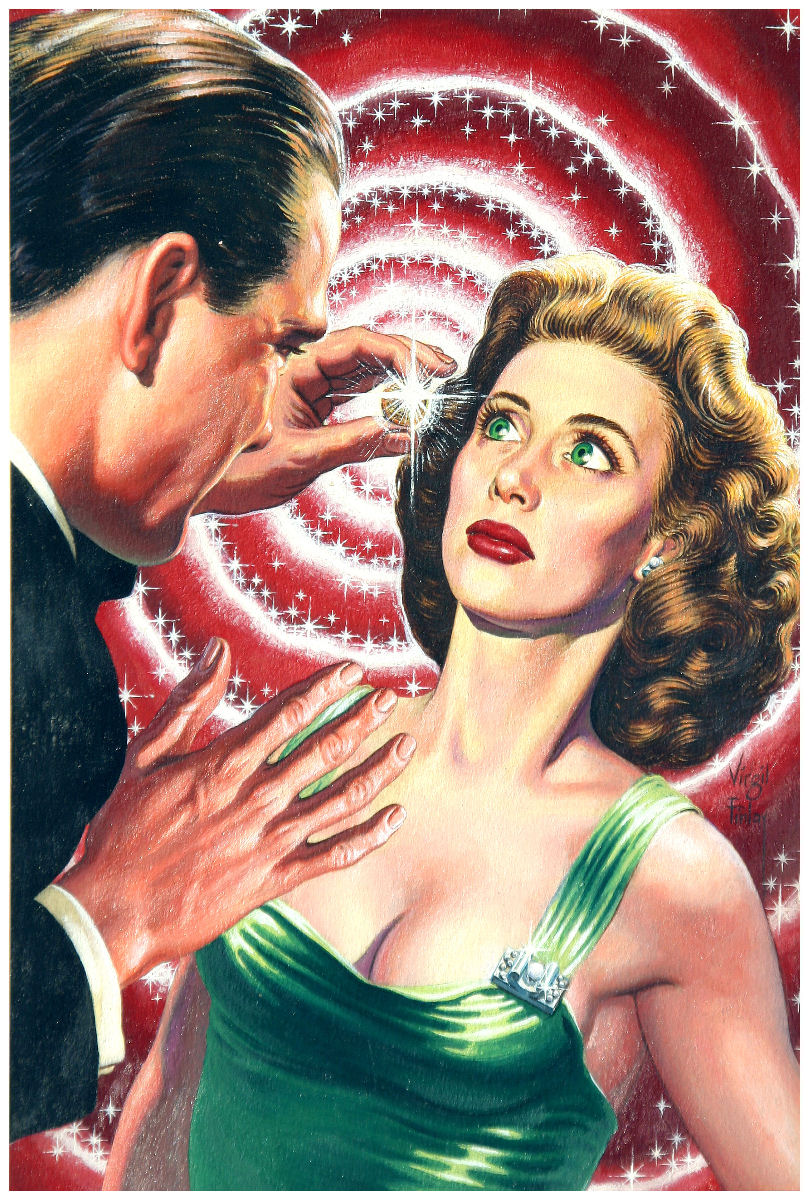 Later that summer, Phyllis and I attended a Creation Comic Book Convention in New York City. We had bought a large Golden Age comic book collection and were in the Big Apple to sell the best books. Normally, we would have sold the comics in Chicago, but with our convention nearly a year distant, we wanted to earn back some of our money quickly. Besides, I had vague hopes of buying some original art by Boris Vallejo, who was going to have an art display at the convention.
I didn't buy a Boris at the show, though I did obtain one some years later. Our Golden Age comics sold quite well. We made some great contacts with a group of young artists who were destined to become famous. And we bought six paintings for thirty dollars each.
The art came from Amazing Stories and Fantastic, the two magazines that had once been published by Ziff Davis in Chicago. They had fallen on hard times and both were being published by a man named Sol Cohen. Cohen did everything on the cheap and had turned the two digest publications into mostly reprint magazines, with only an occasional new story. He had inherited some cover paintings from the period right before he had taken over publication of the magazine. They were useless to him as art since they had already been used as covers. So he gave the pieces to Doug Murray, a fan who he knew, with instructions to sell the pieces for whatever price he could get for them.
We were lucky that we encountered Doug, who I had known when I lived on the East Coast years earlier, late that weekend. He had come to the comic book show with approximately a dozen cover paintings that he expected to sell in a few hours. Fast-forward to the end of the show. Doug had only sold one painting the entire weekend and was desperate to sell a few more. At $30 each, the originals were so cheap that we bought six paintings for the price one might sell anywhere else.
While the cover paintings were done by artists most of whose names weren't familiar ones to fans and collectors of the time, that didn't mean the art itself was second rate. One cover in particular stood out and I was happy to buy it. It was for the June 1959 issue of Amazing and was by Taylor Oughton, illustrating a complete short novel by Poul Anderson, "A Handful of Stars." I remembered that cover because it was the first science fiction digest magazine I ever bought off the newsstand when I was just twelve years old.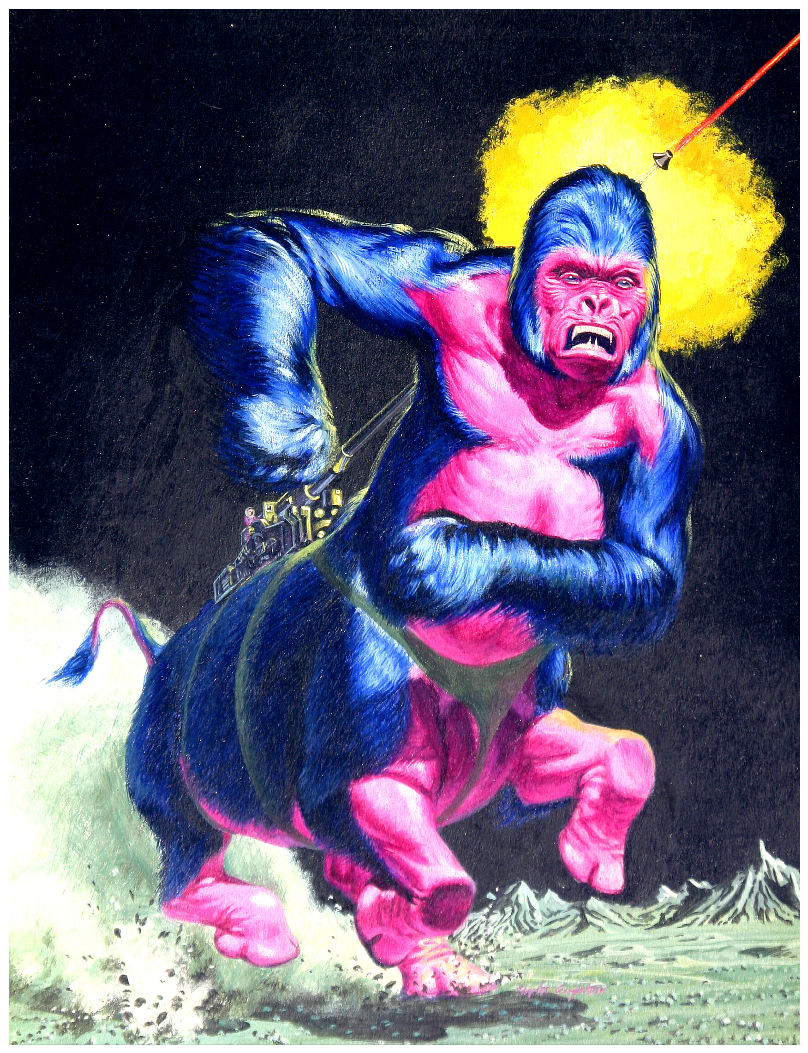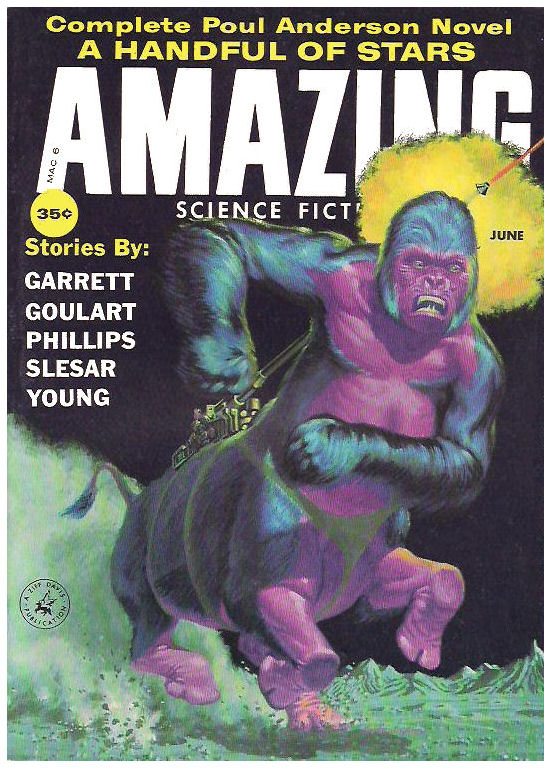 (Image left: Original illustration by Taylor Oughton for the June 1959 Amazing. Image right: cover as published.)

I was thrilled to obtain the actual cover painting for that issue of the magazine approximately twenty years after I had bought the magazine. Years later, I even obtained the Virgil Finlay black-and-white interior that illustrated the story within the issue. In most cases, over the years, I collected the best art available for sale. However, from time to time, I bought art that had a special meaning to me. That cover painting and interior piece were important art touchstones in my life and I was extremely pleased to get them.
Another excellent painting we obtained for the bargain price of $30 was the cover for the June 1972 issue of Fantastic. Painted by John Pederson Jr. it was an imaginative piece showing a spaceship flying over mountains on a cloud-covered planet. While not illustrating any story in the issue, the painting was a perfect example of what older fans called "that sense of wonder."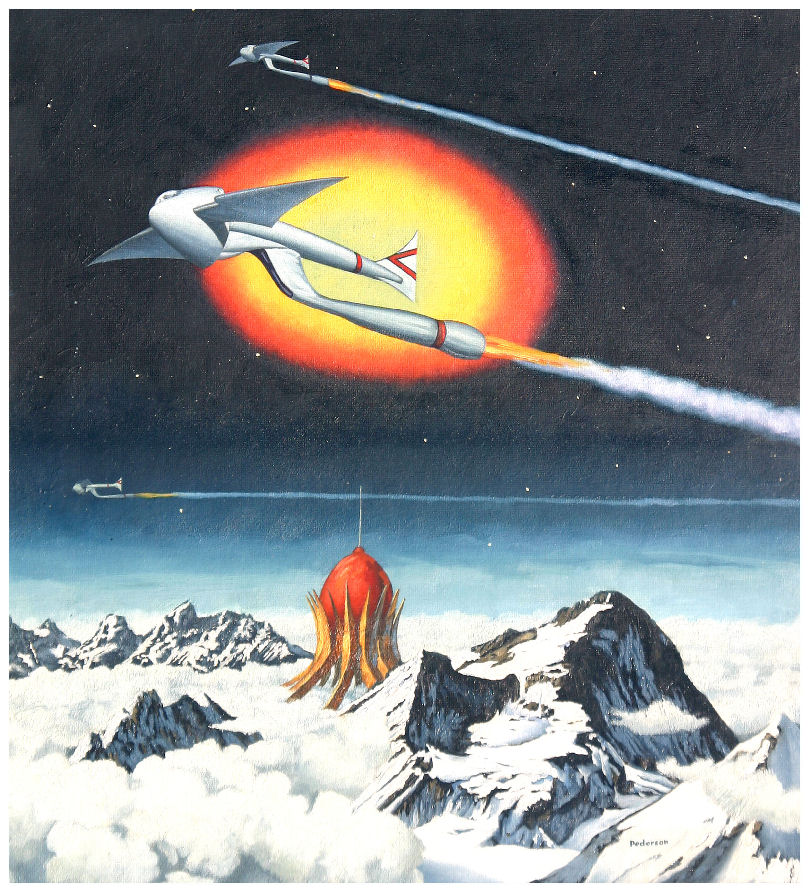 —Four—
On May 25, 1979, the worst airplane disaster in United States history took place at O'Hare Airport in Chicago. American Airlines Flight # 191, a DC-10 scheduled to fly from Chicago to Los Angeles, crashed a few minutes after takeoff. Everyone on board the plane, 271 people, along with two people on the ground, were killed. The FAA suspended all flights by DC-10s until a problem with the wing could be repaired on all planes.
The tragedy sent shockwaves through the publishing and bookselling community as many of the people on that plane had been heading to the American Booksellers Association convention in Los Angeles that weekend. Phyllis and I had even discussed going to the show and taking that flight, but had decided against traveling as she was pregnant at the time and didn't want to travel.
It wasn't until the next day that Ray Walsh called us with the bad news. Our friend, Doug Ruble, had been on that flight. He, like all the passengers, had died when the plane crashed. That day marked the end of sales of Ace paperback cover art. Ray and I stopped trying. Our hearts were no longer in it.
—Five—
An odd but interesting art coincidence took place in January 1980, some months after the crash of flight 191. Phyllis had given birth to our son Matthew and we still lived on the outskirts of Chicago. It was a snowy winter, one of the worst for ice and sleet and snow, not to mention the freezing, bitter cold. The winter was one of the worst ever suffered by the inhabitants of Chicago. I hated traveling in such weather, but it was also one of the busiest winters ever for my book business.
One particularly cold day in January, the phone rang. It was my friend, Otto Penzler, the owner of the Mysterious Bookshop in New York City. Otto owned what had to be the finest collection of mystery hardcovers in the world. He was an authority on rare books and their prices. Plus, in the course of his long career as a bookseller and collector, he had started and run numerous small presses publishing some of the best mystery collections and novels in the suspense and espionage fields.
However, Otto's phone call didn't concern books. Instead, he had just heard from an editor at Ace Books who was pushing a group of cover paintings that he hoped Otto might buy. There were approximately 200 paintings in the group and a majority of them were mystery covers. Otto was vaguely interested in acquiring a handful to sell at his bookstore but didn't really want hundreds of pieces. He hoped that perhaps I might be interested in buying the rest.
I didn't think I could handle that many paintings, especially since they weren't science fiction, on my own. So, I called Ray Walsh. Together, we went in with Otto on buying the Ace covers for sale. In the midst of a cold snap in January, with snow everywhere, Ray drove his van to New York City and picked up the art. After dropping off several dozen pieces with Otto, Ray returned to the Midwest with the rest of the paintings. A few days later, I drove five hours to Ray's store in East Lansing, Michigan, where we split up the loot.
While the paintings weren't as exciting a batch of art as those that we got from Doug Ruble, they still were quite stunning. There were a number of excellent mystery covers done by Norman Saunders and Raphael de Soto. There even were a few Ace covers done by Emsh and Valigursky mixed in with the lot. All of the pieces were from the 1950s, so they were thirty years or more old. Ray and I were both quite pleased to obtain the art and we had no problems disposing a vast majority of the paintings.
I had a great fondness for historical fiction and several of the covers in the collection we bought were painted for historical novels published by Ace Books. Among the ones I kept were Kiboku by Daniel Mannix (G-402), The Sulu Sword by Richard O'Connor (G-386), Alexander and the Camp Follower by Robert Payne (D-127), and The Long Walk by Slavomir Rawjcz. Over the years, most of the historical slipped through my fingers in trades for science fiction art. But I've managed to hang onto The Long Walk, which was a novel I had bought and read when I was in grade school in the 1950s. Every time I look at the painting, I feel a wash of nostalgia sweep across me. Some paintings serve as roadmaps in life. That one sure is!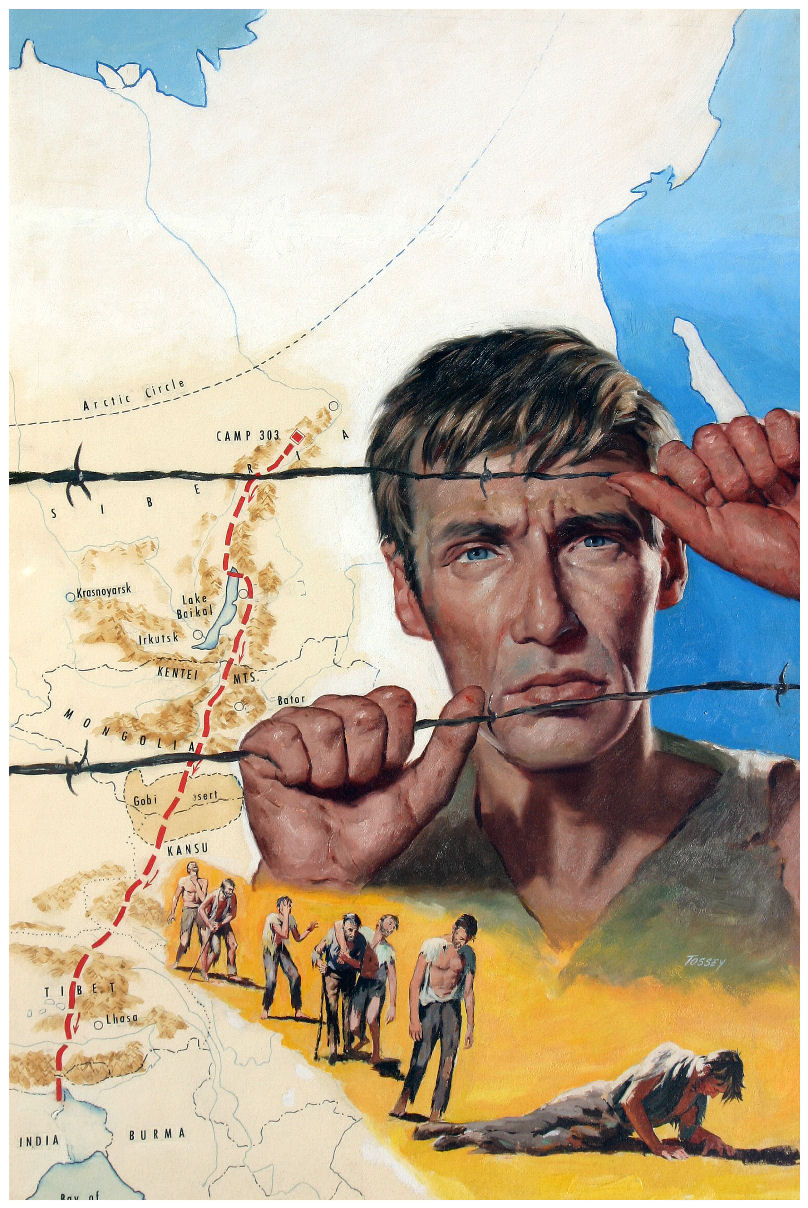 (Image left: The Long Walk original by Verne Tossey (1920-2002); Image right, The Long Walk cover as published.)

—Six—
Early in January 1979, I received an order from a collector whose name I immediately recognized. Not that I needed a name, as his envelope was enough to signal he was someone special. The art on the envelope was a Hannes Bok original, a nice one, and the letter was from Martin Greenberg, the founder and publisher of Gnome Press. (Martin was from New York, and should not be confused with Martin Harry Greenberg, the college professor from Green Bay Wisconsin, who is the most prolific anthologist in science fiction history. They are two very different people!). I knew that Greenberg had surfaced a few years ago after several decades of inactivity as I had seen the original art from a number of Gnome Press hardcovers at Gerry de la Ree's house during one of my several visits in the late 1970s. Gerry had bought the cover paintings for the seven Conan books published by Gnome Press, as well as the cover art for I Robot and the Foundation series, all by Isaac Asimov. Greenberg's letter to me was an order for books from my monthly catalog of new books. I wrote him back, asking if he might have some other artwork from Gnome Press, and any unused dust jackets for books published by the company he was willing to sell.
To my great delight, Greenberg wrote back that he had a number of paintings as well as special drawings done for Gnome Press that he would be willing to sell. Unfortunately, the art had been picked over by Gerry de la Ree, so some exceptional pieces were gone, but I was welcome to make offers on any of the rest. Moreover, I was the only person who had ever asked him about jackets and he had hundreds of unused ones. Would I care to make an offer?
I cared very much. Mint unused jackets from out of print books are like freshly printed money. They are wonderful currency in the book field. While they are not worth hundreds of dollars each, they do serve to dress up a fair book and make it look like a near fine copy. Most collectors are willing to pay $10 to $35 for a mint unfolded jacket. Marty Greenberg, I learned, had four hundred unused jackets. I bought them all. They were a terrific investment and I did quite well selling them.
Needless to say, I was also very interested in what art he still owned? There were many more originals than I first realized. While Gerry had bought the most exciting art that Greenberg had published, he had by no means bought all the good art that had been used for Gnome Press books. It took me several months to buy almost all the pieces Martin Greenberg still owned. There were color sketches done for the covers, finished paintings, and even some black and white interiors available from several of the books. I took just about everything, negotiating prices that both Greenberg and I felt were fair. The pieces I bought included: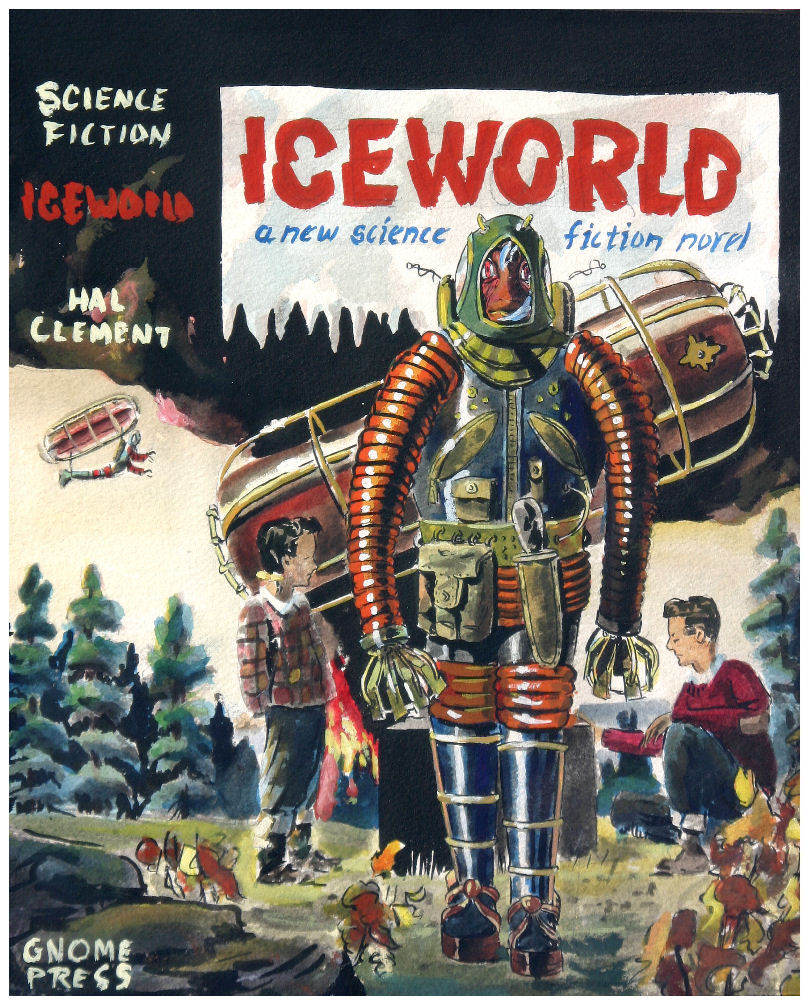 Cover Painting for Undersea Fleet
Cover painting for Undersea City
Cover painting for Undersea Quest
Cover painting for Northwest of Earth
Unused endpapers painting for Gnome juveniles by Ed Emsh
Cover painting for Men Against the Stars by Edd Cartier
Cover painting for SF Terror Tales
12 black-and-whites for the Interplanetary Zoo – art by Edd Cartier
Preliminary painting for Seetee Ship by Cartier
Preliminary painting for Iceworld by Rick Binkley
Preliminary painting for Judgment Night by Kelly Freas
6 Hannes Bok sketches for possible Gnome insignia…
and miscellaneous color proofs and cover sketches.
It was a tremendous group of artwork. When I bought the art from Marty Greenberg, I was most excited about getting the originals that made up the Interplanetary Zoo, which had been published in the anthology, Travelers of Space. The Interplanetary Zoo consisted of a group of sixteen color plates, each of a different weird creature from one of the planets in the Solar System. The art was drawn by Edd Cartier. Unfortunately, I was disappointed to discover the art was done as black and white illustrations and the color was added by the book printer. And the set was not complete, with only 12 of the pieces still together. So, the Zoo illos were not very exciting. I ended up trading them to Alex E. who was extremely pleased to get them.
One of the best pieces that I obtained was the cover painting done for the anthology, Men Against the Stars, by Edd Cartier. It was a large size painting done in Cartier's best style, and entirely colored in shades of purple. My partner in the art business, Victor D, was very disappointed that I had bought the Gnome Press art on my own instead of through our partnership, so I let him have the Cartier painting for cost. Years later, I bought it back from him, paying thousands. But that's another story for another column.
Strangely enough, though I had always been a big fan of Gnome Press, I didn't hang onto most of the art I bought from Marty Greenberg. I traded and sold most of it away. Not because I didn't like the art. It was all quite nice. For some reason I can't explain, I just never bonded with the original paintings done for Gnome Press. At least, not in the way I somehow connected with the original paintings I got from Ace Books in the years previous to my Gnome Press score. I don't have an explanation. Just a matter of taste, I suppose.
I remained in contact with Martin Greenberg for several years. During that time, I bought a lot of Gnome Press esoterica. Among the art souvenirs, I bought one of the few copies of the jacket for the C.L. Moore collection, Northwest of Earth, that was alternately titled Northwest Smith of Earth. Greenberg later decided to drop the Smith because it made the title too long. The jacket I obtained was one of only a handful in existence with the other title. Martin also told me that The Forgotten Planet and Travelers of Space both had alternate dust jackets because librarians thought the original jackets on the books were too garish. Since Gnome Press relied on library sales to keep publishing, Greenberg printed up very mild-mannered jackets for the two books to insure they made it into libraries.
After 1983, Martin Greenberg and I drifted apart. Years later, I read in Locus he had died. He was an interesting person, one of many who I met through collecting science fiction art. But he wasn't the most unusual character I met buying art. Not by a long shot. I met that person a few months later. His name was Roger and he was unique.
Next Installment: "Roger"
Bob Weinberg is the author of 17 novels, 16 non-fiction books and around a hundred short stories. He's also edited over 150 anthologies. He owns one of the finest SF/Fantasy original art collections in the world. These days, Bob is busy promoting his new book, Hellfire: Plague of Dragons, done with artist Tom Wood, and serving as editor for Arkham House publishers.